Duchess Park Secondary (SD57)
Duchess Park Secondary School was built in 2010 and designed by Hughes Condon Marler Architects. It is the only French Immersion and Francophone highs school in Prince George. This beautiful building is an energy-efficient, state-of-the-art facility. It won the Canadian Design Build Institute (CDBI)'s Award of Excellence for design-build in 2011. Below is what the architect said about the project in an article for Arch Daily in 2013.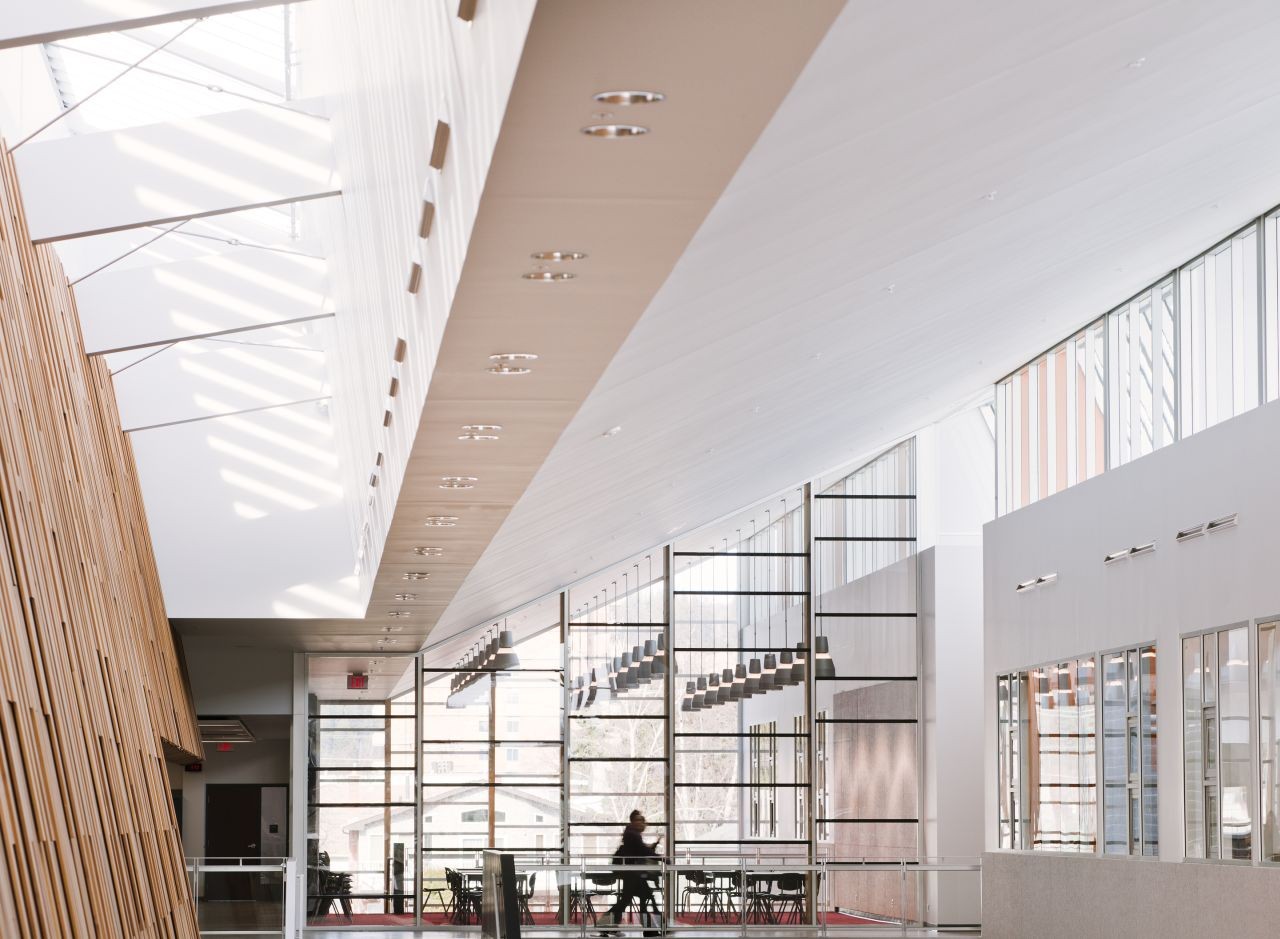 Photos by HCMA
"
Situated in the historic Crescents neighbourhood of Prince George, B.C., Canada, Duchess Park Secondary School is a state-of-the-art building designed expressly for its northern climate. The two-level school sustains a diverse educational community of nearly 1000 individuals. The general environment of the school - that of a modern collegiate campus - maintains the school community's rich tradition of academic and athletic excellence while promoting inclusiveness to all of its students.
A fundamental design concept and a key element of the brief is the creation of a multi-purpose atrium space as a vibrant and versatile social heart for the school. Upon arrival, the layout of the public areas is clear. Students, faculty and guests of all ages quickly feel at home and can find their way intuitively and without direction. It becomes a meeting place, a forum, a town plaza - a space that promotes and fosters the best sense of recognition and identity that creates a strong and vibrant learning community. The Principal has reported that the replacement school has experienced a decline in absenteeism and increased attendance.
DPSS has become the first LEED Gold Certified school in British Columbia. The building incorporates a wide variety of sustainable design strategies including a high performance building envelope, ample day lighting, natural ventilation and low-emitting materials. Although Prince George is far from major manufacturers of building materials and products, regionally sourced materials, FSC-certified wood and materials with high recycled content were extensively used in the project. The general contractor and several of the consultants were based in Prince George, giving a boost to the local economy and creating a strong sense of pride for everyone involved in the project. Energy consumption for the building is 100kWhr/sq.m.. Compared to a district's typical secondary school's 260kWhr/sq.m consumption, this translates into an estimated annual savings of $80,000.
- HCMA
LEED Gold Certification
The Canada Green Building Council website states that "Leadership in Energy and Environmental Design® (LEED) is a rating system that is recognized as the international mark of excellence for green building in over 160 countries. Since 2002, the Canada Green Building Council® (CaGBC) and LEED Canada have been redefining the buildings and communities where Canadians live, work and learn."
Each building that applies for LEED certification undergoes an independent, third-party varification where the building is scored. A building is judged in 6 categories and must earn at least 26 points to be certified with the max being 70 points for Platinum Certification. Duchess Park Secondary scored a 39 earning it a Gold Rating.
Below is a summary of Duchess Park's score card.
Sustainable Sites 8/14
Water Efficiency 3/5
Energy & Atmosphere 10/17
Materials & Resources 5/14
Indoor Environmental Quality 10/15
Innovation & Design Process 5/5
To view Duchess Park Secondary School's LEED Project Profile and full scorecard click here.